The International Association for the History of Transport, Traffic and Mobility (T²M) calls for papers to be presented at its 11th annual conference, which will take place in Kouvola, Finland and in St. Petersburg, Russia on September 25th -28th 2013.
The Local Organising Committee of The International Association for the History of Transport, Traffic and Mobility (T²M), (The Centre for Railway Culture REILIA of the University of Helsinki and The Petersburg State Transport University) invite all academic researchers and practitioners working on history, sociology and politics of transport, traffic and mobility, border studies and transportation technology to participate in the Conference, a scientific meeting dedicated to the study of transport and borders in all parts of the world.
The Conference will take place in Kouvola, Finland and St. Petersburg, Russia, on September 25th-28th, 2013. These cities provide an ideal setting for discussing the role of borders in transport, travel and mobility research. The conference will include an opportunity to visit two countries; in and outside of the European Union. The conference will start in Kouvola on September 25th. On September 27th the conference will move by train from Kouvola to St. Petersburg to embark on the second part of the conference.
The T²M Annual Conference is open to papers and sessions on any field or topic of historical and social science mobility studies. However, we especially invite the submission of single papers or full sessions (three papers) on any topic related to "transport and borders". Besides physical and national-state borders, many other kinds of borders impede and shape mobility: cultural borders, which can divide cities and regions, mental borders, which limit individual space of manoeuvre and technical borders.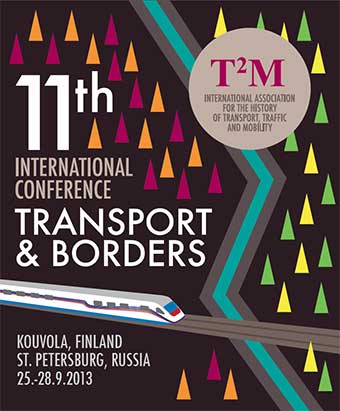 The T²M Conference offers opportunities to use cross-disciplinary approaches to refocus on crossing the borders in new and innovative ways, such as
- Maritime on land and sea boundary issues
- Mobile and hyper borders
- Mental and cultural borders
- Natural environment and shifting borders
- Spaces beyond the state
- Borders, migration and Diasporas
- Travelling on and across borders
- Transcending borders
- Technical borders and technical compatibility
The final deadline for proposals is April 15
th
, 2013. The proposal must include a short abstract, the title of the presentation, the name of the presenter(s), CV, e-mail address of the author(s), contact number and information on audiovisual needs. Papers must be sent to:
submissions@t2m.org
.
read more
more calls for papers: